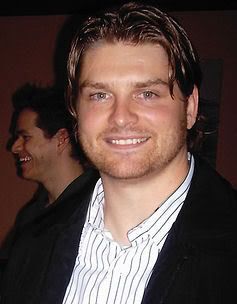 Ahhh. Don't you love a good excuse to use this fabulous, sparkly-eyed photo of Brusty? I sure do. The only thing better would be if I had a fabulous, sparkly-eyed photo of Locker, but I don't. This one of him looking very much like he's aboot to humiliate some poor goalie will have to do.


Um, yeah, so that's what they look like. What they did was get themselves on the AHL All Star roster for the Canadian team. Tomorrow they announce the Planet USA team, but I'm not holding my breath there, what with the high-flying talent of Petr Kalus gone overseas...

That was sarcasm. Just FYI.

Anyway, I'm delighted that Locker found his way into his third AHL All Star game but you can imagine I'm extra super duper delighted that Brusty is going.

The only thing is that there's that shootout skills competition. Does this help or hurt his shootout problem? Maybe it will be good for him to get a shootout under his belt that has pressure behind it but not pressure that matters for the Aeros. Interesting. Either way, I'm excited. I hope it's in HD. It will be played on Jan. 26 in Worcester, MA with the skills competition the day before.

(BTW, when does Houston get the AHL All Star game? Yeah yeah, I know. Frozen hell, flying pigs, Avery captaining the Stars...)

----------------

Also, Darryl Smith has been released back to Laredo so Bucks fans should be pretty happy about that, and in his place, the Aeros have signed Las Vegas Wranglers forward Matt Beaudoin to a PTO. The merry-go-round of minor hockey just keeps a'spinning, doesn't it?


Matt will be wearing #25. He looks pretty game, right? Check out the dude pictured on the boards though. Yikes.