Well, kids, the streak is over with that 1-6 beat down, so the leash of superstition is off (which also means I no longer have to keep wearing purple shirts to the games) and I've got lots to say. But first, lemme get a beer.

Let's start with the good stuff! (This should go quickly.)
The Aeros scored a goal! And it was a really pretty one by a pair of defensemen who don't see the scoresheet all that often.
Paul Albers
finally finished what he's teased us with a couple of times over the last couple of games, with a beautiful streak down the ice, dekeing the IceHogs defense right out of their breezers, and firing one past
Crawford
.
It was a joy to watch and
John Scott
got the lone assist, so that was icing on the cake. Bravo boys.
The other highlight was just how damn tough
Mitch Love
is. At one point, he got in a tangle by the IceHogs bench and honest to God, it looked like he was fighting about 4 guys at once, a couple of them ON the bench. And yet somehow he got the double minor. Bullshit, I say. Those asshats shouldn't have been throwing punches at him from the bench without getting penalized for it, and I KNOW they were.
But then he got in a real fight midway through the third against
Bertram
and just beat the snot out of the guy. It was a nice one. Quick and decisive.
The beer is kicking in now. I feel warm and happy inside. Good beer. Beer doing its job.
Now for the bad stuff.
| | | | | | |
| --- | --- | --- | --- | --- | --- |
| 3rd | RFD | 0:07 | P. Pelletier (25) | P. Kontiola, T. Brent | |
| 3rd | RFD | 7:08 | E. Brophey (13) | N. Hjalmarsson, T. Hambly | |
| 3rd | RFD | 13:12 | P. Pelletier (26) | T. Brent, P. Kontiola | |
| 3rd | RFD | 17:27 | T. Brent (19) | P. Pelletier, A. Hobson | |
| 3rd | RFD | 18:09 | P. Kontiola (14) | P. Pelletier, D. Groulx | |
After the
Brophey
goal,
Brusty
replaced
Schaefer
but fell awkwardly making a save just a little over 4 minutes into his time, and Schaefer had to come back out, letting in 3 more and looking like a statue.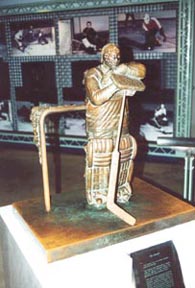 My crew said they thought he was injured, but I don't believe that's the case. Then again, I hope he wasn't playing like that healthy. And apparently Constantine felt the entire team folded like a cheap tent, according to
Andrew's Chron article
. Couldn't agree more. Shots were
29-14
. Fourteen!
The usual guys who always work their asses off worked their asses off, but turnovers were plenty in the neutral zone and the team was miserable at getting the puck deep. The playmakers and scorers were sloppy and heartless.
Kolanos
in particular has not carried on his level of play from prior to his last call-up to Minnesota. Very disappointing.
Locke
was nearly invisible tonight.
Schultz
looked timid after being the target of a number of IceHog cheap shots.
Rosa
looked good,
Earl
had his best game since getting here.
Falk
was impressive tonight as well. Best I've seen him look so far this season.
Sometimes I watch the boys handle the puck and want to send them to breadmaking classes. The lesson is that the more you dick around with the dough, the tougher your bread will be. The chemistry is different, of course, but the more you dick around with the puck, the more opportunity the other team has to relieve you of it. Simple hockey, boys. Simple hockey.
Speaking of which,
Madsen
is back from his ankle injury, but
Pouliot
is out with a lower body injury.
Mr. Crowley
was a healthy scratch and
Irmen
's still out with his bunged up ankle. ETA: Oh yeah, and I guess
Kilpatrick
was a healthy scratch, too, though I'm starting to doubt his existance. Forgot to also mention that
Mojzis
is still out with an injury.
Kudos to
Mr. Prediction
for literally counting down from 5 to the first IceHogs goal (I keep wanting to say Chops... I'd forgotten what it's like to play anybody but them). It was uncanny and impressive. Though I have to wonder if he wishes he could
take this back
...
Here's
Royal

's blog on the game
. As I thought, Schaefer didn't stink it up due to injury. But Brusty IS injured and it sounds like
Khudobin
will need to pack his dimples and get to Moline, IL tomorrow. I'm sad. I miss watching Brusty.
That's all. It's been a bad hockey night for Ms. Conduct, but as Mr. Conduct says, "The sun don't shine on the same dog's ass every day." Indeed, my dog's ass is very much in the shade tonight.
And
Cal
...
QUIT DIVING!