Apparently, under all our noses, my favorite crazy goalie got a 2 year, 2-way, million dollar deal with Minnesota this week. So, my poor man's Turco, Barry Brust will be back in an Aeros uniform next season with a proper NHL contract.

I really couldn't be more delighted. He made the last season for me with his ballsy, exciting style of goaltending. He and Schaef were an amazing tandem and I would have given anything for them to stick together, but that's just not how it works usually. Particularly when we have a solid #2 prospect in Khudobin who is ready to hit the AHL. So, I'm really curious how this is going to play out. I think you're doing Dobin a huge disservice keeping him in the ECHL. He needs to move up. Everybody else in the system is also under contracts. Now we have 3 minor league goalies. Hmmm... whazzup there?

But whatever's up, I'm just so happy I don't have to see Barry in some other stanky team's uniform. And hopefully he'll get new pads over the summer and he can NOT look like a homeless bum goalie this season. Though honestly, it worked for him, so I can't complain. Congrats, Barry!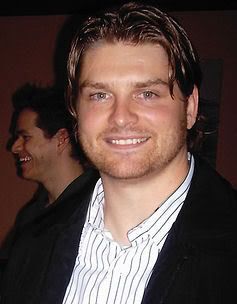 *************

In other news, out on the lake today with Coach Stalin, one of the folks who joined us was one of the goalies who plays in her league. So, you know I'm all over that. Had to pick his brain and see what he thought about the path I'm on here.

We talked about it for quite a bit, the three of us hockey-obsessed freaks, and while he felt like the goalie goal is obtainable eventually, he agreed that I do need to be a very strong skater, especially backwards (augh) and he was adamant that skating out (as a forward, most likely) is essential to being able to understand and anticipate the plays. The conclusion we came to ultimately is that it would be greatly preferable for me to start playing sooner than later in order to speed my skating development up and give me a good feel for the game.

I've been avoiding this because I really didn't want to spend $400 on player gear to then turn around and spend $2000 on goalie gear. Nor did I want to spend a ton of energy learning a position I don't care to play long term. BUT I know they're right and it will still be wicked fun, so I figure I'll do it.

I think their new season just started and I need some time to refocus and work on puck handling and things like that that I've never given much thought, so I'm guessing I'll join up for the next session in September. And now the process of collecting gear begins. I'm scared but excited and need to wrap my brain around this. I pretty much only study what goalies are doing and don't really pay much attention to what the skaters are doing in terms of play formation and whatnot. I'll be watching a bunch of NHL re-runs so I can shift my focus a bit and maybe learn something watching the skaters more closely.

Eep!