I had a really nice birthday, chock full of love and hockey.

Started the day with a nice long nap after waking up at 5:30 with Mr. Conduct, who woke me up in time to go skating at the blissfully deserted midday public skate. I skated for an hour and a half and worked on crossovers a lot.

Then we went to dinner at Texadelphia before the game, which was tasty. And then to the game where the Aeros lost, as expected. It was good to have closure by losing at home though. Got to give them a few rounds of applause for their effort this season. They've run hot and cold but they've worked hard and I think we all know and appreciate that. I don't feel badly about the season at all and I'm really looking forward to next year.

Coach Stalin and Dan, our account rep, conspired to get "Happy Birthday Ms. Conduct" on the birthday announcements, which was embarrassing but very cool and appreciated.

And then we got to skate on the ice one last time before it's melted off for the year. I've never done that before, so it was pretty awesome to see the rink from the players perspective. Man, I wish we could fill the place up for the guys more regularly. It must really pump them up to skate out into the space and see lots of people cheering them on. And equally bummerific to skate out and see friends and family.

Anyway, it was a fun evening and I felt the birthday love and I wore myself out on my skates and it was all good.

My birthday present came TODAY... damn the luck. If only I'd ordered it back when Mr. C said I could, I'd have had it for at least the Thursday and Friday games. Oh well.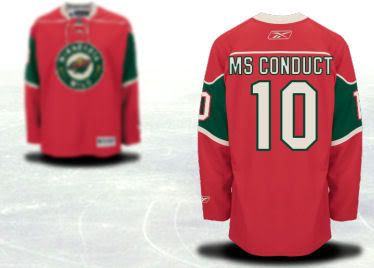 Pretty huh? I love it.

Time for Detroit to take it to the Avs again. Go Wings!